Weekly Notes: Two Matches Ahead for Women's Soccer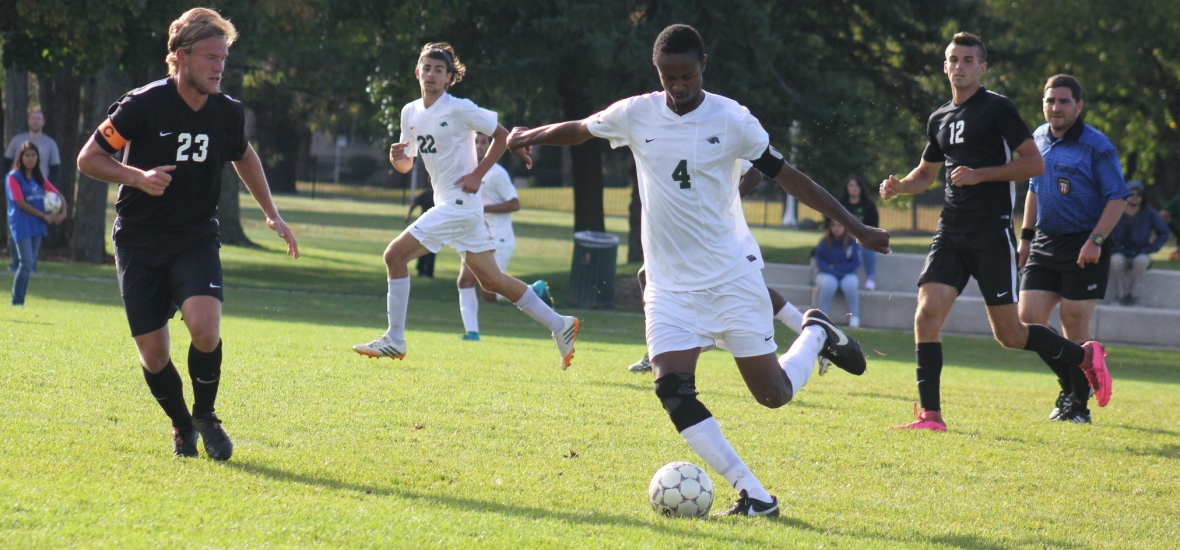 CLICK HERE FOR THE COMPLETE VERSION OF WEEK SEVEN GAME NOTES (PDF)
WEDNESDAY, OCTOBER 14
Marygrove (0-7-0, 0-3-0 WHAC) vs. No. 15 Siena Heights (11-2-0, 4-1-0 WHAC)
Time: 4Â p.m.
Location: Marygrove Soccer Field — Detroit, Mich.
Coverage: Live Stats
SATURDAY, OCTOBER 17
Marygrove (0-7-0, 0-3-0 WHAC) at Davenport (3-7-1, 0-5-0 WHAC)
Time: 1Â p.m.
Location: Farmers Insurance Athletic Complex — Grand Rapids, Mich.
Coverage: Davenport Live Video and Stats
BY THE NUMBERS
1:Â Did you know the Marygrove women's soccer program has won one (1) national title? In 2009, the Mustangs' women's soccer squad put together a remarkable campaign, going 10-4-2 overall on their way to win the United States Collegiate Athletic Association National Championship. The title run, improbably, would come in the program's inaugural season.
5:Â The Mustangs lost a substantial amount of experience due to graduation last season. In all, five (5) Mustangs were lost to graduation or expired eligibility, including the program's all-time leading scorer Cheyenne York. In four seasons, York amassed an impressive 24 goals and 11 assists in 76 games. York accounted for eight of the Mustangs 12 goals in 2014.
3: Three (3) Mustangs have combined for the team's four goals this season with freshman midfielder/forward Allison McDowell (Novi, Mich./Novi High School) pacing the offense with  a pair of goals and assists for six points. Fellow freshman Raven Buck (Westland, Mich./John Glenn High School) and Brandy Lynch follow with one goal each for the Mustangs.
MUSTANG REWIND
This week's Mustang Rewind takes us back to last year on Oct. 8, 2014 when the women's soccer team snuck past Indiana Tech by a 2-1 final score to earn the program's first WHAC win since 2012. Former Mustang standout Cheyenne York scored both goals, one in the 28th minute and the game-winner in the 78th minute, to lift the Green and Gold to a stunning victory over their counterpart from Fort Wayne, Ind.
LYNCH SCORES ON SENIOR DAY!
After spending three-plus years as one of the program's primary defenders, Brandy Lynch (Dearborn Heights, Mich./Crestwood High School) moved forward to an attacking midfielder role on Senior Day, tallying her first career goal in the process against Lawrence Tech on Oct. 3. The goal was also Lynch's first points in her 48 games played at the collegiate level.
KEMPINSKI TWINS TO THE RESCUE!
Former Marygrove volleyball standouts and twins Kara Kempinski and Nicole Kempinski have joined the women's soccer team for the fifth and final year of collegiate eligibility. Kara and Nicole played two years of collegiate volleyball at nearby Schoolcraft College before rounding out their careers at Marygrove, and are now enjoying time on a new playing surface in 2015. Kara and Nicole enjoyed stellar volleyball careers in a Mustang uniform, highlighted by Kara's 2013 WHAC Libero of the Year award.
A CORNERSTONE OF THE PROGRAM
Freshman Cayleigh Scott, a 2015 Arbor Prep graduate, is one of three solid freshmen brought in by head coach Worteh Sampson. Primarily a defender, Scott possesses the ability to put the ball in the back of the net after converting three PKs as a sweeper during her senior year in high school.
DID YOU KNOW?
Assistant coach Matt Lividini is a former world-class athlete! Lividini enjoyed a brief stint with the San Marino Bobsled team to participate in the Lake Placid and Calgary Olympic games.
SCOUTING SIENA HEIGHTS
The Siena Heights Saints are one of the top programs in the country after entering the week ranked 15th in the lastest NAIA Coaches' Poll. Head coach Scott Oliver is back for season 15 on the sidelines for Siena Heights and has led the Saints to a 11-2-0 mark overall and a 4-1-0 record in WHAC action. Taylor Mulder leads an explosive Saints offense with 13 goals and four assists through 13 matches this season.
SCOUTING DAVENPORT
Sixth-year head coach Megan Lenhart and the Panthers enter the week with a 15-14 overall record and a 7-5 mark in WHAC play.  Molly Lameyer paces the Panthers attack with 321 kills, good for 3.06 per set, through 29 matches. Lameyer is followed by a balanced cast of Panthers on the attack as Marcey DeHaan and Krissy Dill check in with 289 and 240 kills, respectively. 
SAMPSON CAN RECRUIT!
First-year head coach Worteh Sampson, a former longtime men's soccer assistant coach, was hired in April 2015 to take the helm of the Mustangs women's soccer program. With only two months to recruit while high school students were still in class, Sampson took advantage of the brief time period en route to signing a trio of stellar class of 2015 freshmen, including Raven Buck (Westland, Mich./John Glenn High School), Cayleigh Scott (Westland, Mich./Arbor Prep), and Novi's [Allison] McDowell.
AROUND MUSTANG ATHLETICS
The men's soccer team has been on a roll as of late, posting a 7-0 victory over Concordia-Ann Arbor on Wednesday (Oct. 7) and a 3-1 win over Lourdes on Saturday (Oct. 10). The pair of lopsided wins led to WHAC Offensive Player of the Week honors for senior forward Abdoulie Jallow.
THE MUSTANG SPORTS NETWORK (MSN)
The MSN is back for another year of live video on marygrovemustangs.com/live, this time with expanded coverage including multiple cameras and added talent!
STAY CONNECTED: Facebook | Twitter | Instagram | YouTube
BE THE FIRST TO KNOW:Â Text & Email Alerts
DOWNLOAD OUR APPS:Â iOS (iPhone/iPad)Â |Â Android
WOMEN'S SOCCER CONTACT: Tim Johnston | [email protected]/* */ | @tjohnston56
MARYGROVE BROADCASTS: Mustang Sports Network | Twitter
FOLLOW THE TEAM 24/7:Â Twitter